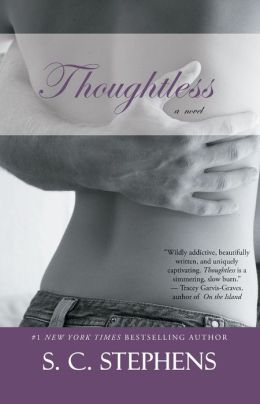 Series: Thoughtless #1
Publisher: Simon and Schuster
Published: August 12, 2009 (originally)
Pages: 530, US Paperback
Edition Reviewed: ebook
Source: Bought
Summary:
For almost two years now, Kiera's boyfriend, Denny, has been everything she's ever wanted: loving, tender and endlessly devoted to her. When they head off to a new city to start their lives together, Denny at his dream job and Kiera at a top-notch university, everything seems perfect. Then an unforeseen obligation forces the happy couple apart.

Feeling lonely, confused, and in need of comfort, Kiera turns to an unexpected source—a local rock star named Kellan Kyle. At first, he's purely a friend that she can lean on, but as her loneliness grows, so does their relationship. And then one night everything changes...and none of them will ever be the same.
Review *alwyas spoiler-free unless noted*:
This book has SO much hype surrounding it that it was impossible to NOT have a preconcieved feeling of elation before reading the book. One of my absolute favorite YouTubers, Jen (Reading with Pugs) posted a review on GoodReads about how much she loved it. We usually feel the same way about books, and I'm convinced we're book and interest twins because of this. Check out her channel HERE!
Enough with shameless promotion, on to the review! My feelings on this book? I liked it alot. I didn't love it. I felt it was overly long, one character in particular pissed me off to no end with her selfishness and stupidity (Kiera), and another one was just too perfect (Denny). As for Kellan Kyle? He's hot, I'll give him that, but I don't see everyone's obsession with him. There weren't any particular instances in the book where I was thinking to myself "I must have me some Kellan." Wait, didn't I say I really liked the book? Why, yes I did. Despite it's flaws, I managed to be very much interested in the story, and managed to finish it in a couple of days. It's angsty and full of drama, so of course I'm going to like it. I always wanted to find out what would happen next, find out when things would finally come to a head. I have also purchased the 3rd one, but I'm not in any hurry to get to it. I'm hoping the next is better, now that we have all the cheating and sneakiness behind us. Maybe Kiera could even grow a vagina and act like an adult instead of a pansy-ass?