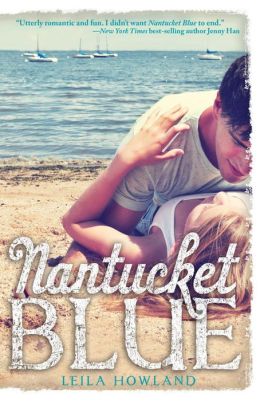 Series: N/A
Published: May 7, 2013
Publisher: Disney Hyperion
Pages: 304, US Hardcover
Edition Reviewed: ebook
Source: ARC via NetGalley
Summary:
For Cricket Thompson, a summer like this one will change everything. A summer spent on Nantucket with her best friend, Jules Clayton, and the indomitable Clayton family. A summer when she'll make the almost unattainable Jay Logan hers. A summer to surpass all dreams.

Some of this turns out to be true. Some of it doesn't.

When Jules and her family suffer a devastating tragedy that forces the girls apart, Jules becomes a stranger whom Cricket wonders whether she ever really knew. And instead of lying on the beach working on her caramel-colored tan, Cricket is making beds and cleaning bathrooms to support herself in paradise for the summer.

But it's the things Cricket hadn't counted on--most of all, falling hard for someone who should be completely off-limits--that turn her dreams into an exhilarating, bittersweet reality.

A beautiful future is within her grasp, and Cricket must find the grace to embrace it. If she does, her life could be the perfect shade of Nantucket blue.
A quintessential summer book by the description. You've got everything you need....boys, best friend drama, tragedy, and Nantucket. If what you are looking for is a pure, unadulterated, feel good summer book, this is for you. Unfortunately, I like my fluff book with just a little more.....ooompf. I wasn't feeling the love story or the best friend drama. They seemed kind of thrown in there to give the book some sort of plot. These 2 things may sound trivial, but to me, if you have a love story, it should be done right. These 2 just magically start to fall in love. If you've read the story, you'll know what I mean when I say this because of their history. It may sound weird, but I don't want to give anything away.
Now on to what I did like. The bed and breakfast! My favorite parts of the book involved Cricket at her job at the bed and breakfast. I loved the interaction with her co-worker! She was fantastic, even though she wasn't really elaborated on. I wish we got to see more scenes with her!
All in all, a decent stand alone. Especially if you are interested in a beachy summer read.